Sold Out

Zoom the image with mouse
Ovonic 100C 6S 1800mAh 22.2V LiPo Battery for FPV RC Aircrafts - XT60 Plug
Subcribe to back in stock notification
customers are viewing this product
Ovonic 100C 6S 1800mAh 22.2V LiPo Battery for FPV Drone RC aircraft.
Spec of Ovonic 100C 6s 1800mah battery:
Brand: Ovonic
Chemistry

:

Li-Polymer(LiPo)
Configuration

:

6S1P
Voltage(V)

:

22.2V
Capacity(mAh)

:

1800mAh
Discharge Rate: 100C
Max Burst Discharge Rate: 200C
-Length(dev.5mm) : 88mm
Width(dev.2mm) : 34mm
Height(dev.2mm) : 47mm
Net Weight(dev.20g): 278g
Connector Type: XT60 Plug
Balance Connector Type : JST-XH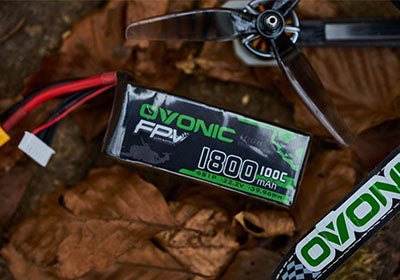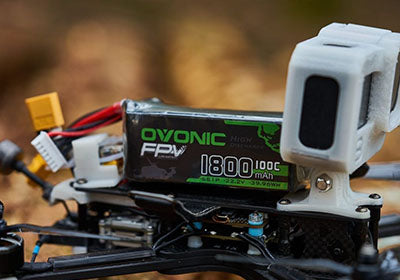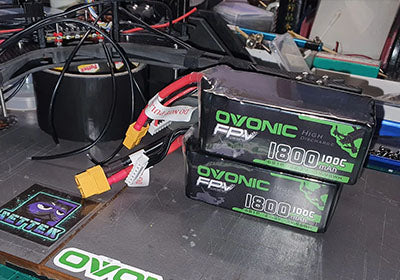 Compatible with:
Ovonic 100C 1800mah 6S lipo battery is suited to kx017001a and Align Trex 600, iFlight Titan DC5, etc.
Package Content
1×Ovonic 100C 22.2V lipo 6s 1800mah battery with

XT60

Plug
1×User Manual
Please Notice:
For the RC battery, only if the voltage and the plug match, then it will fit.
Please stop charging immediately when the cell voltage has been charged to 4.2V (Normal cell voltage is between 3.7V~4.2V).
To double make sure safe, please have a check first whether the battery surface is alright when you get it and whether the voltage is normal before using.
If the new battery won't hold a full charge or loss the charge very quickly in a short time, please use Balance Charger to charge and recycle several times first.
COUNTRIES / REGIONS
METHOD
ORDER VAVUE
COST
United States
UPS/USPS Shipping 2-5 Business Days
Under $69
Shipping fee based on weight
UPS/USPS Free Shipping 2-5 Business Days
Over $69
Free*
Germany
DE DHL Shipping 1-3 Bussiness Days
All orders
$3 Flat Rate
Pan-European Countries besides Germany
DHL/DPD/GLS 2-5 Bussiness Days
All orders
Shipping fee based on weight
United Kingdom
DHL 3-7 Bussiness Days
All orders
Shipping fee based on weight
super lipo battery
Much better than most other products I have purchased.