-19%
Sold Out

Zoom the image with mouse
Ovonic 22.2V 100C 6S 1000mAh LiPo Battery Pack with XT60 Plug for Freestyle
Subcribe to back in stock notification
customers are viewing this product
Ovonic is always strict with product quality. We provide top-quality FPV batteries that are widely used for FPV freestyle, FPV racing, etc. Dedicating to providing a better flight experience. And provides fast order shipping, friendly service for our customers. With over 20 years of experience and hundreds of professional battery technicians, we have committed to offering superior RC Lipo batteries with higher cost performance to our customers.
Ovonic 22.2v 1000mAh 6S 100C LiPo Battery Pack with XT60 Plug with high discharge rate is a great choice for FPV flight. This battery packs a ton of power in a compact form factor, giving you the flight time and power you need on your craft.
More Choice for You:
In the AMPOW EU warehouse, we also have higher capacity 6s lipo for you to pick, like 1300mah 6s 100c and 1550 6s 100c.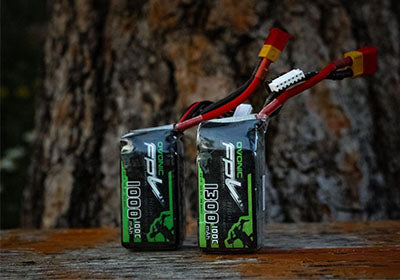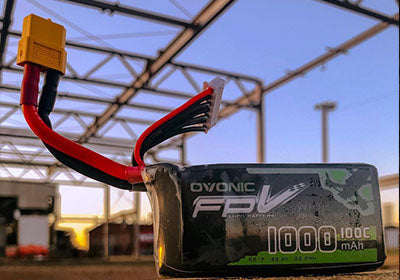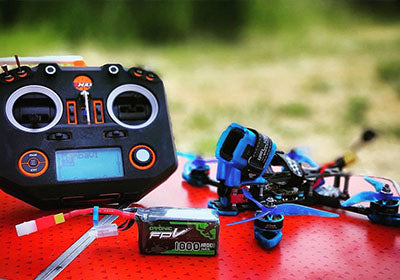 Spec of Ovonic 6S 1000mAh LiPo Battery:

Brand: Ovonic
Chemistry: Li-Polymer (LiPo)
Configuration: 6S1P
Voltage(V): 22.2V
Capacity (mAh): 1000mAh
Discharge Rate: 100C
Max Burst Discharge Rate: 200C
Charge Plug: JST-XH
Discharge Plug: XT60 Plug
Net Weight (dev.20g): 171.3g
Length (dev.5mm): 75mm
Width (dev.2mm): 36mm
Height (dev.2mm): 35mm
Feature:
Ovonic 1000mah 6S lipo battery with XT60 plug has a high discharge rate. It is a lightweight lithium battery for FPV freestyle, which is a trend in FPV flying.
Package Content:

1×Ovonic 22.2V 100C 6S 1000mAh LiPo Battery
1×User Manual
Please Notice:

For the RC battery, only if the voltage and the plug match, then it will fit.
Please stop charging immediately when the cell voltage been charged to 4.2V (Normal cell voltage is between 3.7V~4.2V).
To double make sure safe, please have a check first whether the battery surface is alright when you get it and whether the voltage is normal before using.
If the new battery won't hold a full charge or loss the charge very quickly in a short time, please use Balance Charger to charge and recycle several times first.
COUNTRIES / REGIONS
METHOD
ORDER VAVUE
COST
United States
UPS/USPS Shipping 2-5 Business Days
Under $69
Shipping fee based on weight
UPS/USPS Free Shipping 2-5 Business Days
Over $69
Free*
Germany
DE DHL Shipping 1-3 Bussiness Days
All orders
$3 Flat Rate
Pan-European Countries besides Germany
DHL/DPD/GLS 2-5 Bussiness Days
All orders
Shipping fee based on weight
United Kingdom
DHL 3-7 Bussiness Days
All orders
Shipping fee based on weight
great 6s lipo
The cell voltage gap is very small, and the performance is as I expected, very satisfied. After a dozen cycles, there was no swelling whatsoever. Overall great quality and reasonable price, which is why I bought 8 packs.
Great Lipos
These Ovonic 6S 100C Lipo Batteries are perfect for any 4-6" Drone. This is the 6th set of Ovonic Lipo Batteries I have purchased. I have purchased 3S,4S, and 6S Ovonic batteries in the past and, like my previous experiences, these Ovonic batteries have performed as good or better than any other battery I have purchased. Ovonic has been a go-to brand for me in my 6 Years of flying drones. They are just solid and will last a long time as long as you take proper care of them.
outstanding performance!!
I'm flying this on my quadcopter, and it is the best battery I have used so far. Lots of power and seems to run and recharge very well. Much better than I anticipated.
really liking them!
I've probably flown about 10 to 15 cycles on each now, and can say without a doubt that these are good performing packs. I'm getting explosive performance from them on my 5" and 4" quad, especially compared with 4S. Not only do they perform well, but they've proven to be durable as well. I'm not a great pilot by any stretch, and have no problem admitting to some recent crashes. As a result I had a replace a set of props on each quad, and even a broken arm on one. These 6S packs however held up great, even on the 4" where they were mounted underneath.